The year 2023 is declared as the International Year of millets and the UN along with governments of the world is looking to draw policy attention to the nutritional and health benefits of millet consumption, and their suitability for cultivation under changing climatic conditions.
Millet is one solution for sustainable agriculture and a healthy world.
Food security
Nutritional security
Safety from diseases
Economic security

● Resistance to climate, water, pets, and diseases.

● Rich in copper, iron, zinc, and iodine.

● Rich in bioactive compounds

● Better amino profile

● Gluten-free- best for celiac diseases.

● Low GI – best for diabetes

● Best for people with cardiovascular diseases, anemia, and calcium deficiency.

● Climate resilient crop.

● Sustainable income source for the farmer.

● Low investment for growing it.
Source: https://www.orfonline.org/expert-speak/millet/#:~:text=They%20are%20one%2Dstop%20solution,probiotics%20with%20potential%20health%20benefits.
Millets are high in nutrition and can provide sustainable food security. It is best for child malnutrition and iron deficiency and anemia. It is high in nutrition as compared to any other cereal crop.
Millet are a climate-friendly cereal crop that can be grown in any climatic condition, in any soil, and with very less water and in good quantity as compared to other crops. Millets are a one-stop solution.
But the one major problem that millet battles is lack of awareness. This is one of the reasons why farmers gravitate towards other crops that are known to fetch better prices.
So, will declaring 2023 as a millet year bring good news to the millet farmers?
We believe so, as with such a global push, the awareness about millet and its consumption will grow. This will increase the demand and improve the rate at which millets are purchased in the global markets, in turn benefitting the farmer.
Millet is a farmer's friend
Millets survive in shallow, low fertile, and even saline soil. They require less water and a shorter growing period of 60-90 days. Millets do not need chemical or synthetic fertilizers for growth, and that means lower cost burden on the farmer.
Millets are great for the soil and environment
Millets fall under the group of C4 cereals which is environment friendly that take more carbon dioxide from the atmosphere and convert it to oxygen. Millets also enhance the soil nutrients. Its fibrous root system prevents soil erosion, maintains soil integrity and as millet composts slowly, it helps retain water. Millets also have a good shelf-life post cultivation.
To encourage farmers to cultivate millets, and grow millet awareness and consumption, Government of India has launched many schemes for International Year of Millets 2023.
One of them is the seven sutras theme launched by the government of India for IYM2023 :
Source: https://agricoop.nic.in/sites/default/files/Crops.pdf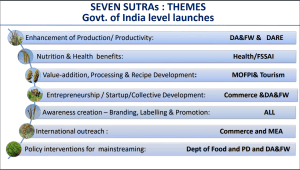 While each of the seven sutras will directly or indirectly support the farmer, three of these sutras directly support the farmer
Enhancement of Production & Productivity of Millets:
This focuses on improving the seed quality, driving up yield per hectare and supporting farmers with seed hubs, latest technologies and creating demand. It encourages states to take steps for procurement.
Nutritional & Health benefits:
By increasing awareness and working with research institutes to improve the nutrition and fortification of millets, the government aims to bring millets into mainstream. The government is including millets in all its nutrition related programs like Anganwadi and Poshan meal program. This will give a boost to the demand of millets.
Value addition, Processing:
With value addition and processing support, the government aims to bring start-up's, private sector and agricultural sector together to ensure there is greater value add to the customer and all stakeholders can share notes and strengthen the infrastructure, thereby ensuring fair pricing and access to latest knowledge and technology to the farmers.
As a millet based food products start-up, we are proud to support Indian farmers through our mission. The millets for our range of products are sourced directly from the farmers to ensure fair pricing to them. Our mission is to empower millet farmers, while making India healthy.
We believe that the International Year of Millets will be a cornerstone in millet success. Millet year will bring good news for the farmers and will give the much needed push for the millet ecosystem across the world.